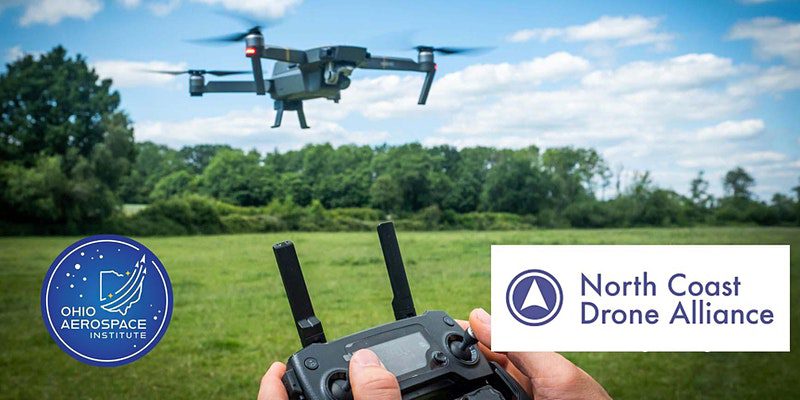 The North Coast Drone Alliance (NORCODA) and Ohio Aerospace Institute (OAI) have teamed up to bring UAV expertise and Part 107 training to northern Ohio.
If you're interested in making money using your drone or adding UAS/drone capabilities to your industry, join other professionals and hobbyists in one of our 3-day intensive workshops. UAS skills give you a competitive edge, as this technology is quickly finding daily use across all industries.
Learn how to fly sUAVs (drones) and prepare for the FAA's part 107 exam, from some of the region's most experienced UAS trainers and professionals.
Here is an example workshop schedule. We are continually refining the material and schedule of presentation, but this will give you an idea of what you can expect to learn.
Day One
8:30 a.m. – 12:30 p.m./Overview & Intro/Airspace & Weather Into/107 Regulations
1-5 p.m./ Airspace & Charts/ Weather Theory & Sources (METARS)
Day Two
8:30 a.m.-12:30 p.m./Aerodynamic Principles/Airport Communications & Signage/ Aeronautical Decision Making
1-5 p.m./ Physiological Factors/ Maintenance, Inspection & Pre-Flight Requirements/ Night Operations/ Flight Over People
Day Three
8:30 a.m.- 12:30 p.m./Practice Test Review/Part 107 Testing & Recurrent Training/ DJI Drones & Flight Programs/ LAANC, Waivers & DJI Fly Safe/ Safe Flying Tips/ Flight Practice Exercises
1-5 p.m./ In the Field Flight Training
---
Cost: Varies slightly depending on location, but is approximately $500 for all 3 days
Equipment: All UAS equipment will be provided.
Location: Ohio Aerospace Institute (OAI) facility, and various locations throughout northern Ohio